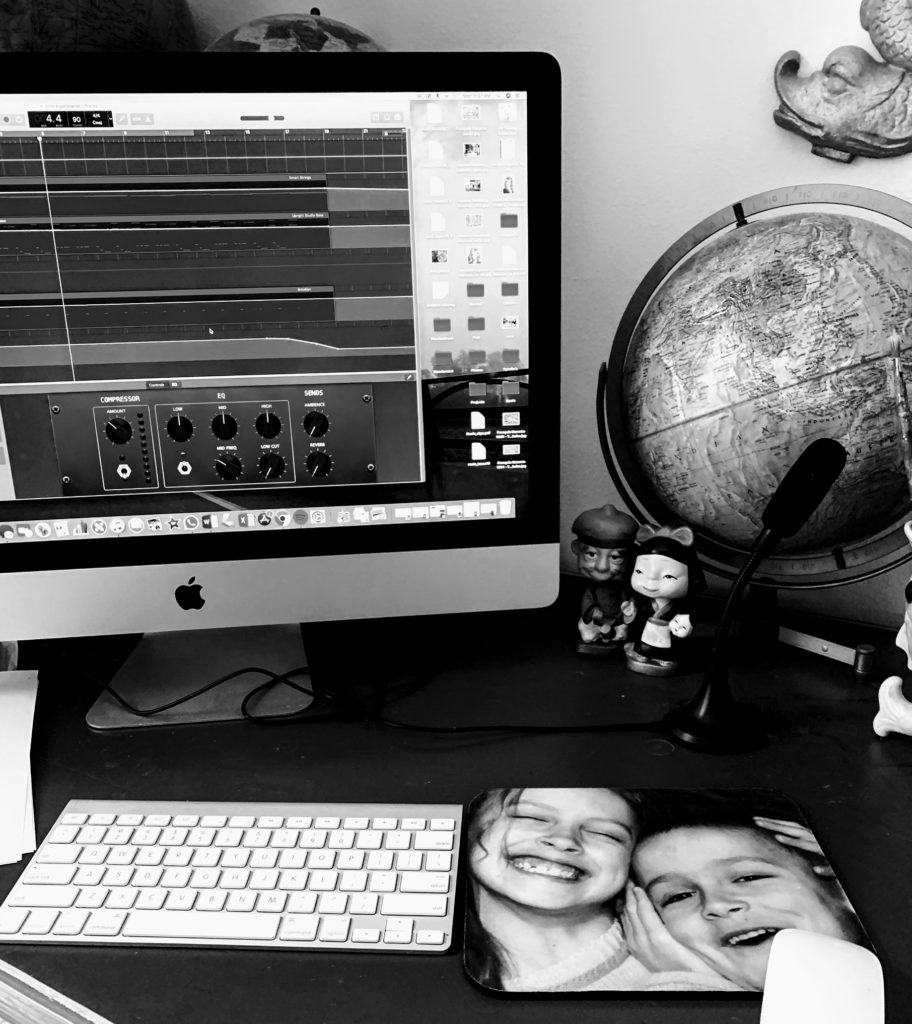 Podcasting for Introverts… a guide to how I fumbled my way to creating a podcast on my Mac. We will talk about the bones, skin and heart of a podcast.
There are a lot of podcasts out there – around 660,000 as of march of this year. And yes – some of those are podcasters just testing the water – but 83% are considered active. This is an enormous amount to wade through.
The majority of podcasts adopt the interview format, which I think is a little easier to produce – you still need to do your homework, but having another person to bounce ideas off of can be motivating. You feed each other. The flow is organic. To date my only two interview episodes have been with my children – collaborating with family – what a very safe an introverted thing to do… I loved every minute of it and would love to host you on an episode if you're interested in traveling to the Kickapoo. Just let me know… I would be excited to discuss any topic with you.
Until then my podcast, for the most part, will be a solo narrative. Mostly because my dog, Wilson, doesn't have much to say. And since my biggest fear is disappointing anyone who is kind enough to give this podcast a chance, I carefully construct my content. This can really slow the process down… writing is hard, you guys. So new episodes don't get uploaded as frequently. If you don't hear from me in a while, know that I am committed to this and am just marinating future episodes. I really, really enjoy this whole process… even the exacerbation of writing… despite the worry that I am boring you guys to death.
To over simplify things – I think podcast creators as well as podcast listeners fall into introverts and extroverts. When I was first sorting through podcasts to listen to I found most of them to be the latter. I'm a'gonna step on thin ice with this one… extroversion likes to fill in the empty spaces with liveliness… with background chatter. The type of person who enjoys listening to morning radio DJ's would fall into this category. Back and forth banter – sometimes lighthearted – sometimes really superficial… always big on personality. Introversion is looking for the soul of a story – something specific to connect to… the type of person who would listen to NPR. There is a whole spectrum between these two polars.. where you fall on that spectrum will guide you to the type of podcast you'd enjoy producing. There is a lot of guidance toward knowing your audience and creating a podcast for that audience – I don't necessarily agree. Create the podcast you would listen to. Do it for you.
The BONES of your Podcast…What's in a name?
No pressure here but this is your identity… chances are if you've thought about creating a podcast, you've also thought about what you'd call it. The very first thing you need to do is secure a domain name. I used Namecheap.com – the fee for which, is $8.88 plus tax per year. Looking to secure a specific name will also tell you if there are other domains already registered to that name – so be prepared with alternatives. When I first Googled the name Wanderbrook Glen in 2013 nothing popped up – which was a really good sign. I'm still mostly unique in the interverse… there's a Wanderbrook Stables in Pennsylvania, and Driftless Glen Distillery in Baraboo… but my identity is my own. The Wanderbrook Glen trailer discusses how I came up with the name if you're interested.
Once you have your domain name secured, you'll need to find a site that will host your website. A website is a must as you'll need a place to which you'll upload and store your podcast episodes. I went with WordPress which was offered through Namecheap for $14.88 a year. All of these sites -quite smartly- work with each other making the process fairly easy. Navigating the WordPress site was not completely intuitive for me – but I did manage to fumble my way through getting set up…. You can always go back (as I did) and fine tune the way the site looks when you're feeling inspired to do so. The dashboard in WordPress gives you what you need to specifically upload podcast episodes which is really helpful.
The next step is where I really needed help. I am fairly proficient with the software on my Mac – I can fumble my way through setting up a website… I am absolutely clueless about disseminating my information on the internet. There are things in the universe which I don't understand and I don't feel the need to understand. I just want them to work. The internet is one of these things, as are monarch butterflies, and land line telephones which are some kind of real time voodoo. These things are beautiful in their mystery – I don't need to dissect them. If you are interested in dissecting and reassembling the internet to better understand it – I am proud of you! I do not have the aptitude or patience for such things.
Enter Castos… a podcast hosting, disseminating and analytic company that works with WordPress. Castos has a monthly fee of just under 20 dollars and is worth every cent in my opinion. Castos will send your podcast to the likes of Apple, Spotify, Stitcher and Google Play. It's a compatibility facilitator…this description is in my words… because I do not understand things like RSS feeds. I have also found the staff to be very helpful in being patient with me and helping my podcast take flight. Basically, Castos does the footwork for you… so you can concentrate on the fun stuff. If that sounds like a paid advert, it is not. I do not have enough listeners to be paid for anything – but I do highly recommend Castos.
The fun stuff, for me, is recording and editing the podcast. For non-Mac users – I've read that Audacity is a good program for the recording and editing. Since I do everything from my Mac, I use Garage band. You guys…this part of the process is my most favorite part. Before podcasting I had never used Garage Band, but I had used iMovie… the drag and drop, and layering of tracks is similar in both programs so getting up to speed on Garage band came fairly naturally for me. For those of you completely unfamiliar – my best advice would be to play with the program. Start by creating music – which I'll talk more about in the next segment. And when you get stuck or have questions, Google – Mike Russell GarageBand. He's from musicradiocreative.com and I have found his YouTube videos to be most excellent demonstrations of using the program. His video for beginners is great.
In addition to the internal microphone on your Mac – you should consider getting 1 or 2 external mics. This does not have to be a major investment. I bought a 16 dollar USB Microphone on Amazon and it worked so well I bought a second so I could do interviews. I will have the link on the web page. Solely relying on your Mac's internal mic might provide enough of a distant tunnel quality to your recording that it may sound unprofessional and be a turn off to the listener.
I also downloaded the free app Voice Record Pro for my phone… this allowed me to go out into the world and make recordings to add to the podcast. Although it doesn't have an AirDrop option – you can upload your recordings to iCloud then download them to your computer easy peasy.
So that's the bones of starting a podcast, if you're still listening, we'll talk next about the skin of the podcast.
The Skin of your Podcast
Beauty is in the eye and the ear of the beholder… Before you send your podcast out into the universe – you will need to design your podcast's cover art. Buzzsprout has a very good tutorial on cover art… I will link this online. Peruse the various podcasts in Apple or Spotify to see what's out there and what attracts you as a listener. Use all original art… no borrowing. I used a photo I had taken of our stream at twighlight to reflect the name, Wanderbrook.  I upped the saturation of the photo to make the colors pop, as I wanted the image to stand out from the others while conveying the general tone of the podcast. For those of you without the confidence to create your own cover art – and I hear ya – don't be afraid to ask for help from friends and family who are creatives.
The next biggie is intro music. Intro music is optional, but if you've tried to listen to podcasts who don't have intro music, you'll understand that jumping right into the conversation is jarring. Music adds professionalism to the podcast… it provides a smooth transition into the topic and affirms your identity. This is also a great way to get started in Garageband.
I am not musically trained so the first notes I laid down for my intro were a mess. Garageband displays a grid in any tempo you choose, so that you can then align the notes to get the timing right. Play with and add different instruments, copy and paste sections that are successful to repeat, add tracks to build complexity. It's a process…but can be a pretty enjoyable process if you cut yourself some slack and give yourself some time. In the background of my intro is a recording I made of our stream… I consider it the heartbeat. Over the top I brought in a royalty free recording of a robin.
In regard to using someone else's music… don't. You basically have three options… create your own music, pay someone else to create your music, or don't use music. If you're not super picky there are royalty free pieces that you can purchase on iTunes and use. Under no circumstances can you use someone else's music without expressed permission. There are no free speech loopholes, no timing limits before you get into trouble… even if your cousin is The Childish Gambino and he's given you consent, you will have to repeated show physical proof on every platform. By now you've seen all of the steps and work that goes into creating a podcast… losing that just isn't worth it.
The Heart of your Podcast
We each have our reasons for wanting to be a podcaster, for me it gave me a reason to write… which is something I love to do. And I get to explore and endless mount of topics. Podcasting helps connect me to the outside world from a fairly remote but beautiful area, and make the connections that I crave. And as you can see, it exercises many different kinds of creativity… I am a one woman show and providing the finished, polished product blisses me out. I think there are some who podcast to collect a following, which I think is almost impossible to achieve. As I mentioned before, create the podcast you would listen to. Do it for you and if magic happens, let it happen organically.
Thank you so much for stopping by my podcast. If you have any questions or comments, or would like to be on an episode, contact me at wanderbrookglen@gmail.com I'd love to hear from you.